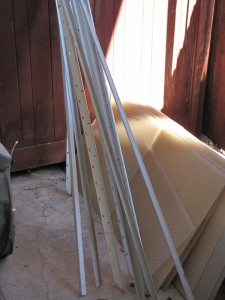 That pile of yellowing plastic and metal used to be my kitchen ceiling. (Some of the metal pieces are 12 feet long.)
It was hiding five (5!) fluorescent light fixtures and the top twelve inches of the kitchen walls.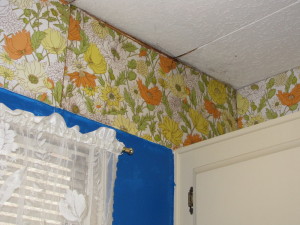 Here you can see the late 60s-early 70s orange, yellow and green wallpaper. And the Very Blue paint I slapped on when I moved in. (I didn't know about primers and three coats of white paint hadn't dimmed that orange at all.)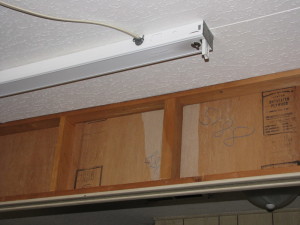 Oh, and over here is the back of the short wall, hanging from the ceiling, that closed off the open side of the dropped ceiling.
Now, tearing this down in October wasn't the smartest of moves! I spend my holiday weekends working/playing at the Great Dickens Christmas Fair at the Cow Palace in San Francisco. And workshops started on Halloween this year.
But I just couldn't stand that yellowing plastic overhead any longer. So I Googled and Youtubed and took a closer look. And I pulled it all down. And I met my first ratcheted screwdriver (the screws were hexes and my little cordless screwdriver didn't have the right attachment.)
So – I'll do my Christmas cookery in this very odd-looking space. And I'll look at lots of websites for ideas (well – of course – I've been doing that!) And I'll make lists. And convince my sister she'd love to come play with me – and power tools<g>
And in January I'll start to turn this odd little kitchen into a pretty cottage kitchen for my Make-Believe Cottage.
---